Family stories by Guillaume Tozer
Jacques Charlois (1689-1733)
9 July 2020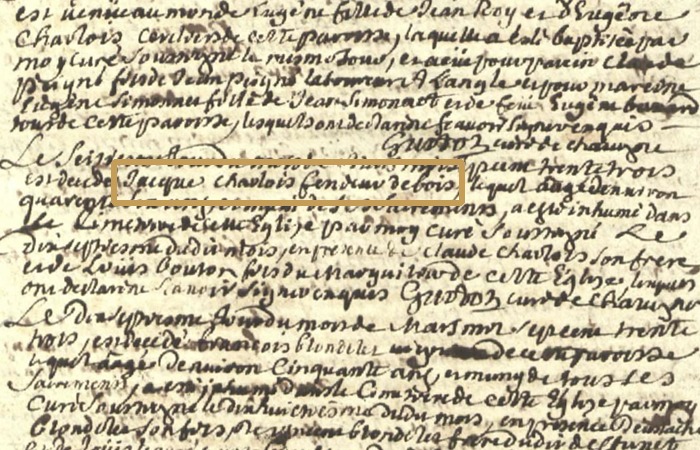 Son of Philibert Charlois and Anne Rondeau, Jacques was born in Chaulgnes on 18 October 1689. The archives of Chaulgnes indicate that 68% of the birth, marriage or death certificates are relating to inhabitants registered as winemakers for the year 1689. At that time, viticulture is clearly the main activity in the village.
However, in the majority of the Nivernais, the economy at the end of the 17th century and at the beginning of the 18th century is mainly based on blacksmithing and forestry. Those two activities were intimately linked while being competitive: wood charcoal was essential for smelting iron whereas timber rafting was reducing river flows used as driving force in forging mills.
In this province widely covered by forests, Jacques Charlois (1689-1733), having the same first name as his paternal grandfather, naturally practiced, as his father and his grandfather, the activity of stave maker. But not only because his son birth certificate, Claude, specifies that Jacques was roofer in 1723. As a matter of fact, this document reflects the fact that stave makers mastered several know-how and all the techniques of splitting.
"Jacques Charlois woodsplitter" died on 16 March 1733, two days after his wife's death, Antoinette. They had at least 5 children but only two of them reached adulthood: Louis (1721-1776, direct-line ancestor of Sylvain Charlois) and Claude. But you will have to wait a couple of weeks to discover their stories in which oak, the Bertranges forest and the Nièvre are omnipresents.
Picture 1: Death certificate of Jacques Charlois (16 March 1733) © Archives départementales de la Nièvre
Picture 2: Cassini Map detail (1760)