Employee portrait
Muriel Bregou, Managing Director of La Chênaie, by Stéphane Ebel
30 October 2019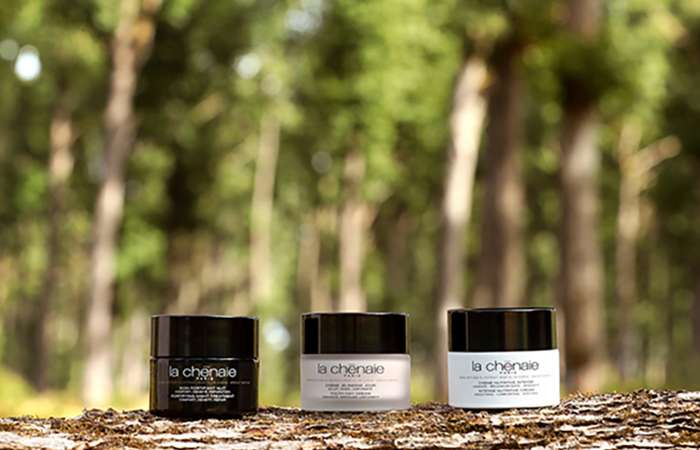 OAK IS A SOURCE OF INSPIRATION!
Monday, 10.30 am, 3rd floor of a Parisian office block. Muriel Bregou, Managing Director of the cosmetics company La Chênaie is checking some last-minute details in her extremely busy diary. In a vast, light-filled office of minimalist design, the company's products sit in pride of place, along with the many prizes that they have been awarded since the brand was launched in 2016. La Chênaie… an ongoing adventure.
An adventure, for there's no other word for it, that started with a meeting. The coming together of inspiration and experience. The idea sprang from Sylvain Charlois, and the experience was Muriel Bregou's. Today she is Managing Director of La Chênaie. "I remember very well when we first met, over lunch. I knew nothing about the Charlois Group." It was in 2013. "Sylvain said to me "if wood is a good anti-oxidant for wine, then it must be good for the skin". And that's how it all began, when the Group's laboratory was already doing research on an oak extract. "My first job was to determine the optimum proportions of the three elements of the tree that had been chosen, and to file a patent for this extract with incontestable anti-ageing properties… Quercus Petraea".
A blank page
"Starting from nothing, I had three months in which to conceive, design and cost up what might just become the Charlois cosmetic company, and build a brand with all that that implies in terms of effort and investment. I really felt the determination and the strength of a group behind me". In just a short time, Muriel was to undergo a total life change, quitting her job to devote herself heart and soul to the slightly crazy challenge of creating a brand of cosmetics based on oak. In her native Paris, where she has lived and worked forever, Muriel put her talents and her network into action. A network patiently constructed since her beginnings as a marketing assistant with Chanel. "I started at Chanel straight after college. It had been my dream since I was a child. An unforgettable experience for a girl of 22".  And above all, two and a half years of hard work and discipline. "I especially learned the importance of brand coherence, a particularly important concept at Chanel". Later she was to add Revlon, Yves Rocher and Petit Bateau to her panoply of experience, with a new skill acquired at each change of post on a path that would lead her to the heart of the Bertranges, at Murlin, the fief of the Charlois family.
Fundamental values
"This group upholds values that I am deeply attached to, that I believe in. Authenticity, creativity, efficiency, aestheticism, and of course, work. I was won over as much by their proudly proclaimed family identity as by the challenge to create, launch and establish a brand in the rather exclusive, closed world of cosmetics".  A world that Muriel knows intimately. She has been involved at every stage of every aspect of the project, from the initial idea, through design and creation to the business plan and sales, not forgetting communication. "I have a free hand, it's true, but no decision is signed off without Sylvain's approval". The brand was launched in 2016 with just eight products. Three years on, there are twenty-three, and La Chênaie has carried off half a dozen awards. "La Chênaie arrived on the cosmetics market at just the right moment. A natural product, made from trees, from the mighty oak… what more perfect symbol?"
A positive vision of ageing and the passage of time
La Chênaie is the first cosmetics house to use the powers of oak. "All of it comes from the Bertranges forest. The bark, the leaves, the softwood, the sap… everything is transformed and made in France. The oak tree offers a positive view of time passing and of ageing; each year it becomes stronger. Creating anti-ageing products using the virtues of oak… what a great idea. I loved it!". She also loved discovering a whole new world, that of the forest and its trades, and the craftsmanship built up around wood, hitherto totally unknown to this city dweller. Although today she can justifiably claim mission accomplished, Muriel fully intends to develop the range even further. "We filed a first patent, and then a second, and we're working on a third. The cosmetics market is demanding and has many imperatives, and the launching of new products is one of them. In collaboration with the laboratory at Murlin, we've worked with tree bark, softwood, leaves, and also the sap. These are just some of the treasures that the oak has to offer. It's a tree that is a constant source of inspiration".
Three questions for Muriel:
– Muriel, what is your view on your career today?
"I think I've been lucky, or maybe I've made my own luck, and I've also been in the right place at the right time. Between my arrival at Chanel as Marketing Assistant and today, at the head of La Chênaie Cosmetics, there have been a total of five companies that I've enjoyed working for, and thanks to whom I've learned a lot. It represents a huge amount of work, and I feel a certain pride when I look back. And my belief, and what I want to say to others, is that you have to take chances, to continually advance, give your all, and challenge yourself. And the rewards will follow".
– And La Chênaie?
What can I say? It is undoubtedly the experience that has enabled me to bring to fruition the 25 years I've spent in the world of cosmetics. And there is also the innovative, responsible side to it. We work with natural products that come from oak, and everything about La Chênaie is in a spirit of eco-responsibility. The products, obviously, but also the packaging, the type of ink we use, the way we work… they all reflect the ethos of the Charlois Group.
– What are you most proud of today?
La Chênaie. (without any hesitation – editor's note). It's a fabulous story. A very human adventure. Everything had to be created from scratch. It's my baby. And it's only three and a half years old… it still has some growing to do. I'm really proud of it in any case. Hearing my suppliers say that this young brand is "going places", seeing it enthusiastically adopted by the group's employees, our distribution network grow (currently around 300 points of sale), and the number of awards it has received….well, I'm happy to have made this choice and to be part of a group that is innovative, environmentally respectful and has great faith in its employees.