Charlois Fund - Exhibition
Charlois Fund Exhibition Space
17 February 2021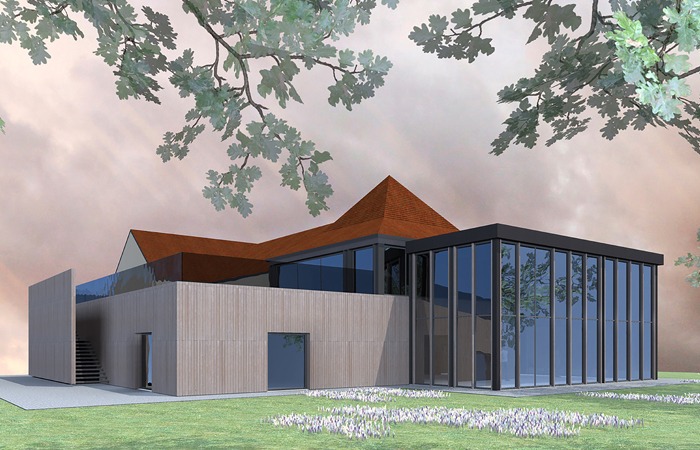 The exhibition space of the Charlois Fund for Art and Forest, created in Murlin in the heart of the Bertranges, has entered its development phase. The interior space and circulation within the building has been redesigned to meet public safety and reception requirements, thanks to the installation of an elevator and a metal walkway clad in perforated sheets. The layout, designed by the interior architects of Rapp&Nogen Agency, will also offer great modularity to accommodate all types of events (exhibitions, concerts, conferences, workshops, etc.).
In a few months now, the building will house the collections of Fonds Charlois for Art and Forest. Theses collections have continued to expand over the past three years thanks to the acquisition of exceptional works such as the "Atlas des bois du Nivernais", a unique collection of photographs by Viscount Raoul Saulnier of Anchald on the workers of the Bertranges forest at the end of the 19th century, engravings and old maps on cooperage and forests or even an original edition of the work of Sepp and Houttuyn bringing together hand-colored engravings of essences from woods known at the end of the 18th century.
So many works and witnesses of the heritage of forests and related trades to be discovered soon in Murlin. But not only as the Chralois Fund also offer a rich and varied cultural program.
The tour will also include a view of the La Grange cooperage factory so that visitors can see its artisan coopers working on the manufacture of exceptional barrels and appreciate the durability of their centuries-old skills and know-how.
Regularly, and this until the inauguration of the exhibition space in spring 2022, you will be able to follow the progress of the site on our social networks and share with us the progress of this ambitious cultural project.