Atypical vineyards
Aversa in Campania
4 February 2021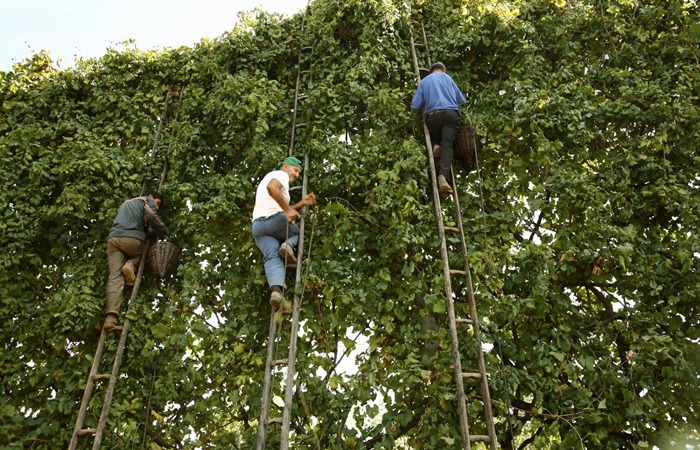 The Campania, located in the south part of the Italian peninsyla, is a region in which viticulture has been found and documented since Antiquity, thanks to the texts of Pliny the Elder (Natural History, Book XIV).
The vineyard of the PDO Asprinio di Aversa (PDO, 1993) have been cultivated haughtily for centuries. This ancestral wine-growing practice, called alberata aversana, is practiced in the 22 cities of the appellation. It consists in associating (or marrying, according to the Italian terme "vite maritata") the vine to a tree, the poplar, which serves as a support for its growth. In his "Voyage en Italie", Goethe gave in 1787 a description of the extraordinary dimensions of the Campania vines: "We ended up reaching the plain od Capua, and, soon after, Capua itself, where we stopped for lunch. In the afternoon a beautiful plain opened-up. A wide causeway crosses fields of green wheat; the wheat is like carper and the height of a span. Rows of poplars are planted in the fields, limbed high, with vines climbing up them. It lasts until Naples. The land is admirably pure and loose, and well cultivated; the vines are of extraordinary height and strength; the vines float like a network of poplar to poplar".
The poplar is particularly suited to this type of crop because of its rapid growth and the small size if its leaves which allows the vines to benefit from good sunlight. Leaning against the poplar, the vines can reach up to 15 meters in height which forces the winegrowers to harvest on ladders.
The cultivated grape variety is white asprinio which produces still and sparkling (spumante) white wines, light and acidic. The fermentation is obtained by a closed tank fermentation method invented in 1895 by Federico Martinotti, then improved in 1907 by Jean-Eugène Charmat, who fitted the tanks with a propeller.
The vineyard of the PDO Asprinio di Aversa, who represents one of the last climbing vineyards in the world, covers an area of 108 hectares.
Picture 1: Autum (harvest near Sorrente) from Jacob Philipp Kackert, ca 1784 © D.R.
Pictures 2 and 3: Harvest in the Aversa vineyard © D.R.